Harmony dental laboratory is a cosmetic dental laboratory based in Cape Town, South Africa, specializing in fixed cosmetic restorative dentistry.
Harmony Dental Laboratory offers your practice all the support and quality crown and bridge products to help you achieve the maximum potential for your practice. All our products are manufactured in-house using the latest in equipment and material technology.
We are here to walk with you and provide you and your patient with exceptional service without compromise.
What we offer:
Patient payment plans
Direct Medical aid claims
Nationwide collections with quick turnaround times
Guarantee on all our restorations
Detailed case planning
Harmony caters for all aspects of crown and bridge work involving cosmetic dentistry. Combined with skill and experience they deliver premium quality products for clientele world-wide, manufactured from the latest materials and equipment technology. We encourage you to browse through this site, and look forward to hearing from you in the near future. Please take advantage of our new order form if you would like any supplies or information on any of our products. Please feel free to ask us for a free quotation, or follow our simple instructions on sending us your case.
OUR LABORATORY
We are a small team consisting of a cad/cam designer, ceramist, model technician and administrator. By keeping our team small, this enables us to control the quality of workmanship and guarantee consistency by ensuring that each case you send will be produced by the same technician. This approach ensures that our clients receive constant high quality and establishes a clear line of communication.
All our work is done in house using the latest in equipment technology coupled with vast experience in the crown and bridge field.
Ceramist/Owner: Eddo Viljoen
Eddo has been specialising in crown and bridge since he qualified in 2003. After obtaining his degree, he moved to London, England where he worked for a high end laboratory who's main clients were based in Harley street, the worldwide epicentre of high end dentistry.
Working with such renown clients with demanding patients, placed him in a position to gain the skills and experience in order to deliver work of exceptional quality.
In 2008, Eddo opened Harmony Dental Laboratory with the same goal to continue to deliver the same standard of high quality in which he got trained abroad.
CAD/CAM Technician: Minhee Kim
Minhee is originally from South Korea, she's been a part of the team for nearly 2 years and has a passion for digital dentistry, and focuses on producing precise fitting frameworks and various structures required for the Ceramist.
Minhee also assists in designing the diagnostic pre-op presentations for our clients and their patients which is essential in delivering expected results.
She is responsible for our highly accurate bite splints which are digitally designed and milled from a crystal clear material to deliver exceptional fitting results with ideal function.
Model technician: Chad-Lee Stellenboom
Chad-Lee plays an important role in the manufacturing of our models. With the understanding of our demanding precision, he manufactures each model with only the best premium materials available. Each model he makes is done with a precise water/powder ratio under a temperature-controlled environment for consistent results. Upon completion, he is responsible for the packaging and logistics.
Administrator: Melanie Littlefield
Melanie is the heart of our operation. She is a dedicated key member of our team responsible for our quotations, medical aid claims, and administrative duties. Her strong background in administration and bookkeeping gives our clients the peace of mind that their accounts are accurate and up to date. Our clients' administration team finds great comfort in working with Melanie, who has a clear understanding of the demands required in the field.
Ceramic Department
CAD/CAM Department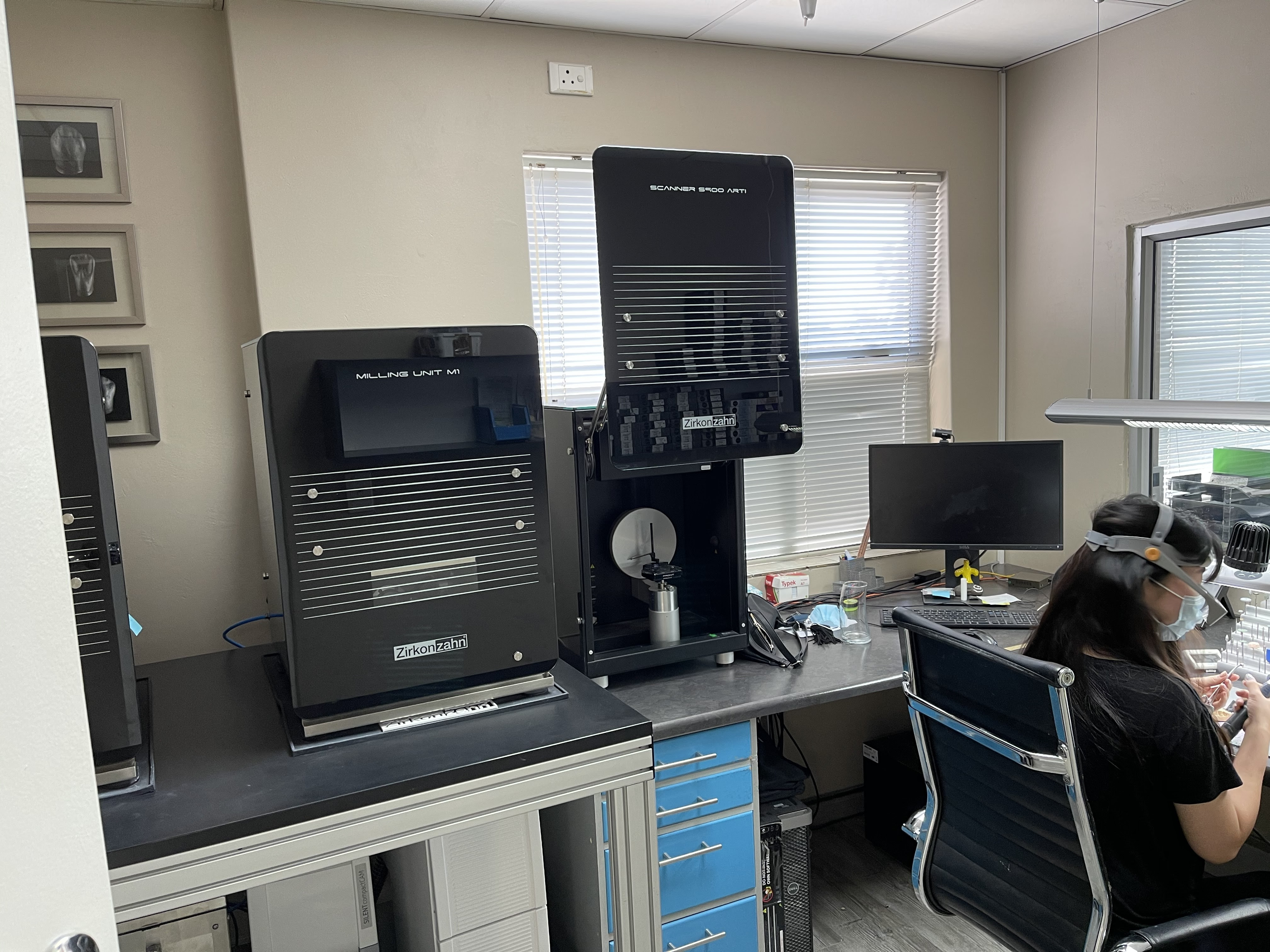 Administration Department